All along, the Chinese Language curriculum has placed equal emphasis on developing students' language ability, fostering their positive values and attitudes, and enriching their knowledge of Chinese literature and culture. Chinese literature and culture are part and parcel of the curriculum. Students are encouraged to explore our time-honoured Chinese culture and philosophies of our ancient sages through appreciation of classical texts and masterpieces, which can strengthen students' language skills, and enable them to gain a good understanding of the magnificent Chinese culture, as well as the moral, affective and aesthetic elements contained therein.

The Final Report of the Task Force on Review of School Curriculum (2020) recommended nurturing in students from a young age an appreciation of Chinese literature and classics from the primary level and progressively throughout the secondary level. To take this initiative forward, the Ad Hoc Committee on Primary and Secondary Chinese Language Curriculum (Enhancing the Learning of Chinese Literature and Culture), which comprises scholars, principals and teachers, has selected some Chinese literary classics as recommended texts for Key Stages 1 to 4. The Committee suggested the adoption of diversified strategies, such as chanting and recitation to familiarise primary students with the rhythm of the texts, and studying the recommended texts containing rich literary and cultural elements at the secondary level to enhance students' language literacy. We encourage schools to incorporate the recommended texts into the curriculum gradually with due consideration of school contexts and students' abilities, including the learning needs of non-Chinese speaking students.

The lists of recommended texts for Key Stages 1 to 4 are now available on the EDB website (www.edb.gov.hk/tc/curriculum-development/kla/chi-edu/recommended-passages.html). Resource packages on literary texts, including explanatory notes, teaching plans, audio recording and calligraphy version will be uploaded in phases. Relevant professional development programmes for teachers have also been launched to support effective learning and teaching.

Apart from the large-scale activity, "Territory-wide Quiz Competition on Chinese History and Culture", and the campaign of promoting Chinese classic sayings this year, the EDB will keep adopting multi-pronged strategies to take forward the introduction of recommended texts and enhance students' understanding of Chinese literature and culture through organising a wide array of activities. We look forward to working hand in hand with the community to nurture students' interests in classical works and pass on our valuable cultural heritage.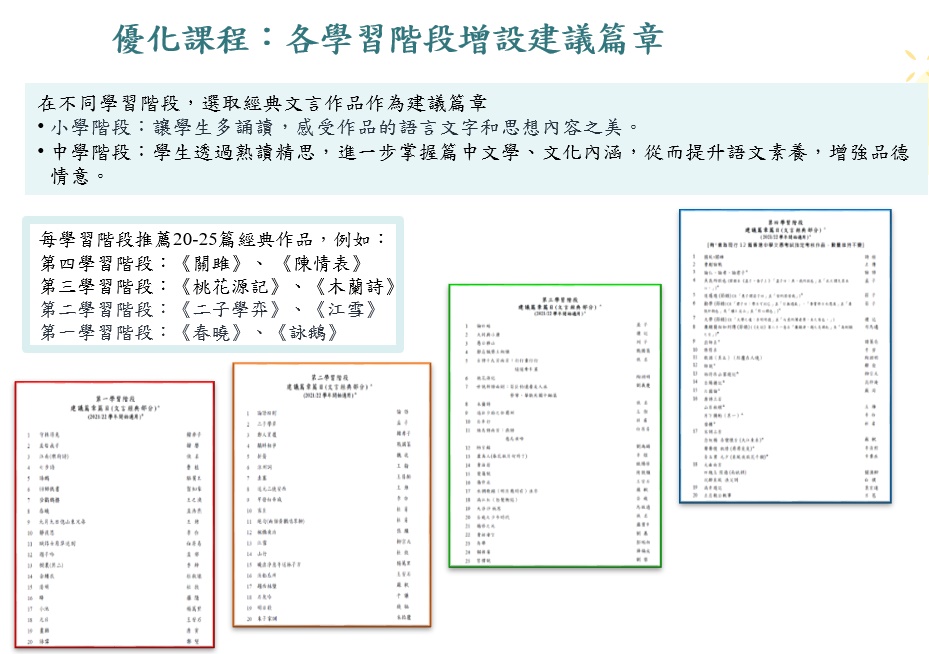 Lists of recommended texts for Key Stages 1 to 4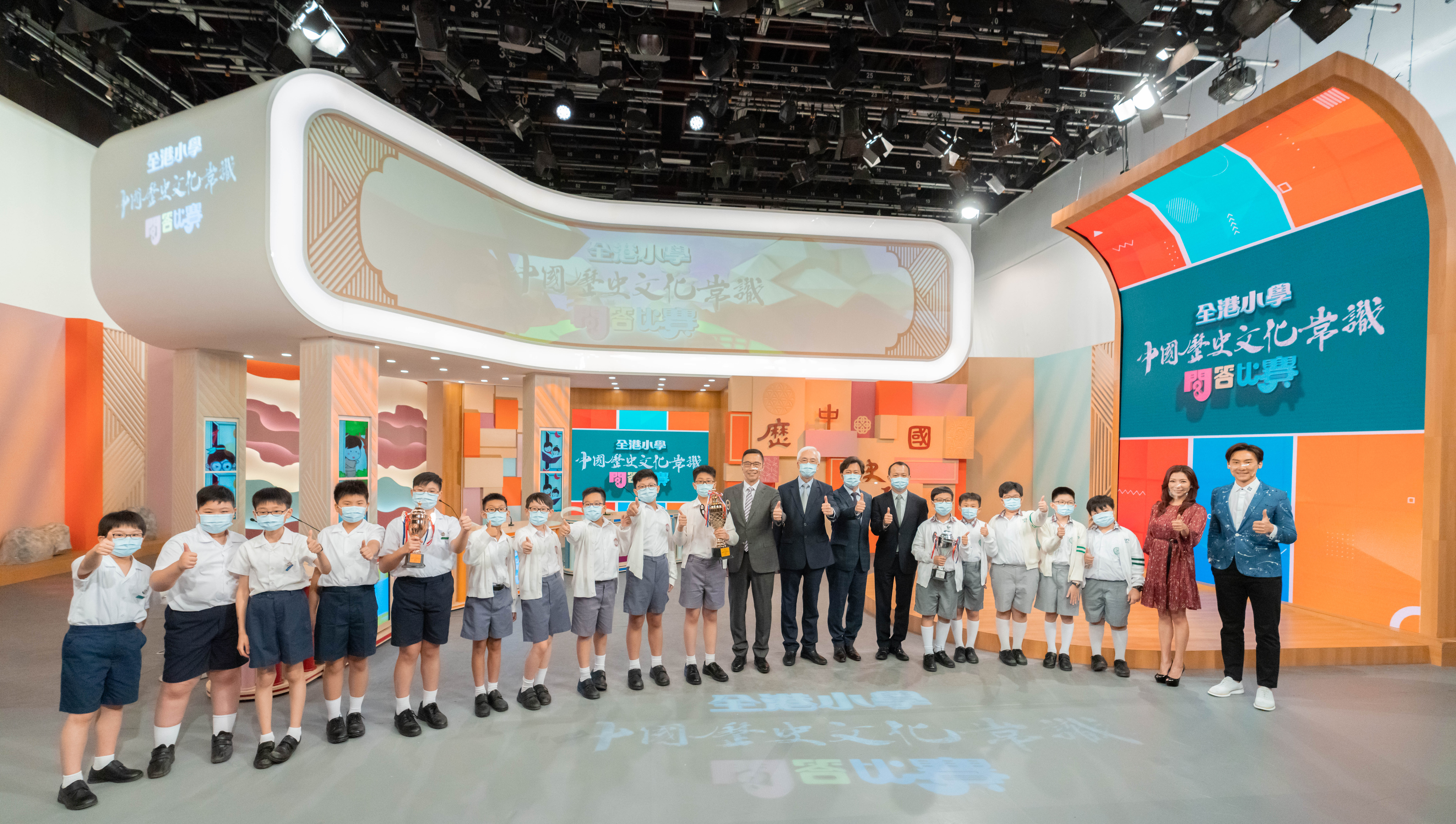 About 40 000 students from 227 primary schools took part in the "Territory-wide Quiz Competition on Chinese History and Culture"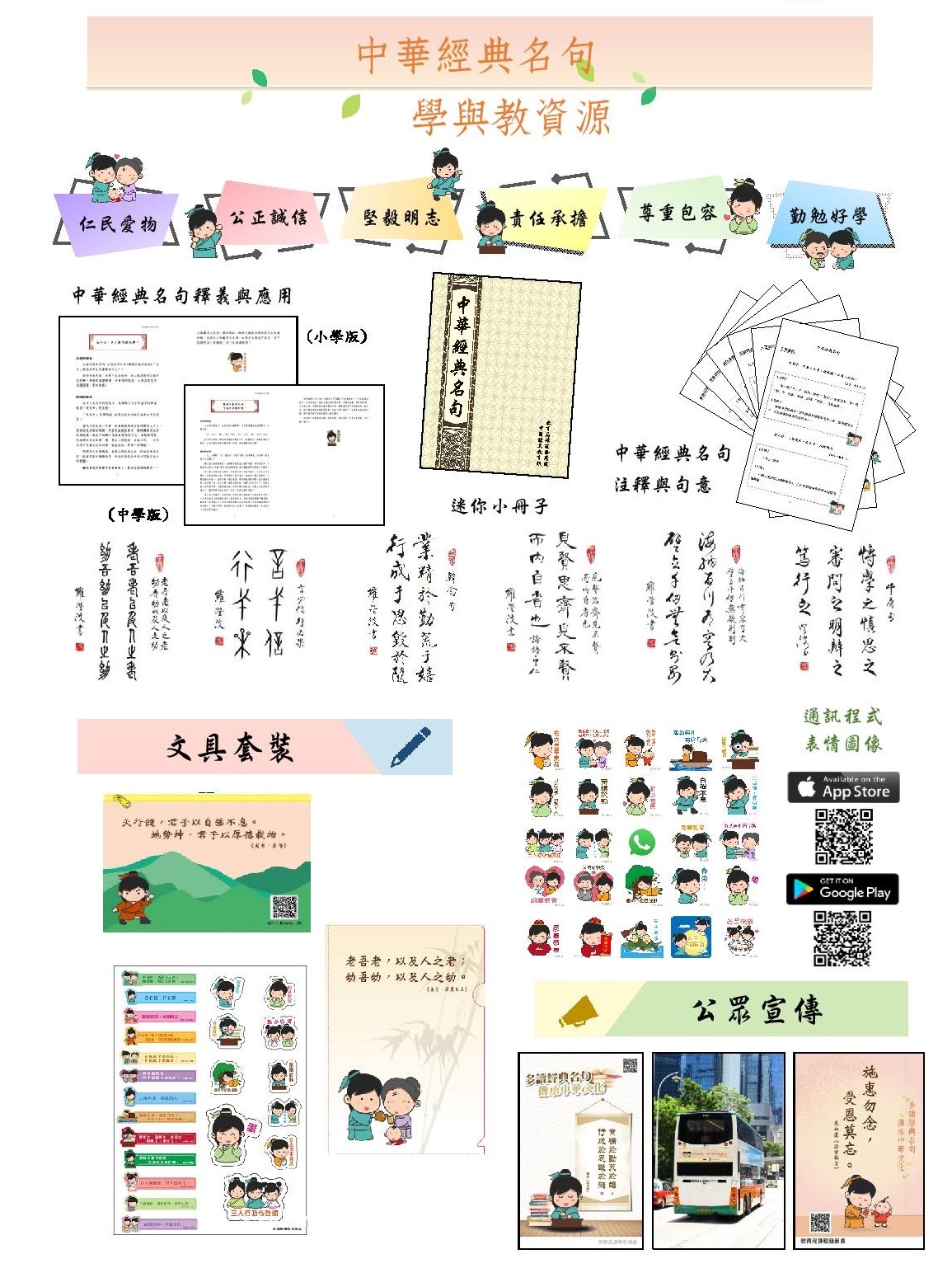 Activities to promote Chinese classic sayings in 2020/21

Note:

This is an English summary of the Insider's Perspective article entitled "加強文學文化的學習——增設建議篇章 強調文道並重". For details, please refer to the Chinese version (https://www.edb.gov.hk/tc/about-edb/press/insiderperspective/insiderperspective20210812.html).

12 August 2021