Quality Assurance for Schools
Latest News

The enhanced School Development and Accountability framework
The "School Development and Accountability (SDA) framework" was introduced by the Education Bureau (EDB) in the 2003/04 school year in supporting schools to implement school-based management (SBM). The framework emphasises that school self-evaluation (SSE) is a core element of schools for their perpetual improvement. SSE, complemented by school inspections (including External School Review (ESR) and Focus Inspection), helps promote continuous self-improvement in schools through putting in place a systematic Planning-Implementation-Evaluation (P-I-E) cycle. Inspection teams validate school performance in SSE and give suggestions for improvement. Schools are expected to make use of SSE and school inspections to promote schools' sustained development and accountability for the improvement of student learning outcomes.
To strengthen SBM, we announced the implementation of the "enhanced SDA framework" in the 2022/23 school year to bolster the accountability of staff in publicly funded schools in providing quality school education and enhancing the national education through the adoption of a whole school approach in particular.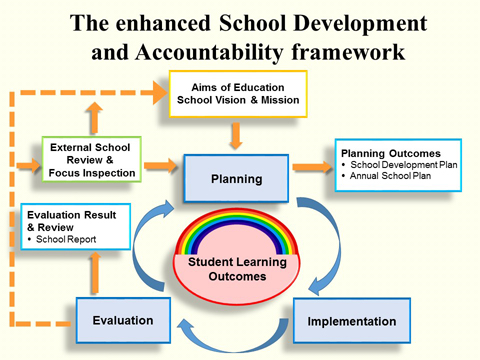 Related Website
You may obtain Adobe Reader by clicking

to view

documents.