It is an important education goal of the Government to nurture a new generation of young people with an affection for the country and Hong Kong, a global perspective, aspirations and positive thinking for contribution to the development of the country and the city. Implemented since the 2021/22 school year, the curriculum of the subject of Citizenship and Social Development (CS) emphasises helping senior secondary students understand the situations of Hong Kong, the country and the contemporary world, as well as their pluralistic and interdependent nature. It attaches importance to cultivating students' positive values and attitudes and sense of national identity in the learning process, with Mainland study tours as a major feature.
Curriculum closely linked with experiential learning
Learning content related to the situation and development of our country constitutes a substantial part of the CS curriculum. As field study activities can help ensure students' accurate understanding of the topics, Mainland study tours form an integral part of the CS curriculum. It aims to enable all senior secondary students to gain a first-hand understanding of our country and its latest development through experiential learning, and enhance their appreciation of Chinese culture and knowledge about the achievements of our country, thereby fostering their sense of national identity.
Having regard to the needs of different schools, the Education Bureau (EDB) started preparation for CS Mainland study tours as early as in 2021. Upon the resumption of normal travel between Hong Kong and the Mainland, the EDB has immediately introduced over 20 itineraries with different themes covering various cities in Guangdong Province. Under teachers' guidance, students learn through pre-tour preparation, observation and recording during the tour, and connecting, organising and applying the learning focuses of the CS curriculum after the tour so as to complete project learning and demonstrate their learning outcomes and self-reflection, thereby deepening their experiences.
Activities led by professionals to enhance effectiveness
In the past three years, Mainland exchange activities were suspended due to the epidemic. Teachers lacking relevant experience might have concerns about the arrangements for the newly introduced CS Mainland study tours. In view of this, the EDB has provided an array of support measures, including introducing a one-off special manpower arrangement to allow schools to apply for an extra of one or two fully-subsidised accompanying teachers this school year, organising a briefing session for schools before they set off for the tour, and providing learning and teaching resources related to the itineraries, such as worksheets, video clips and activity handbooks, to help teachers and students prepare for the tour. Last but not least, schools can apply for professional advisory services, in which experienced professional advisors are deployed to assist teachers in conducting briefing sessions and post-tour experience sharing sessions for students. We are glad to know that schools are proactively making use of the support provided, benefitting students considerably in their learning.
First tour ended successfully providing students with rewarding experience
The first CS Mainland study tour was held on April 3 and 4. Led by the Secretary for Education, Dr Choi Yuk-lin, teachers and students of two secondary schools embarked on a field study in Nansha of Guangzhou and Qianhai of Shenzhen with excitement. The Chief Secretary for Administration, Mr Chan Kwok-ki, saw them off at the Hong Kong West Kowloon Station of the Express Rail Link. In line with the second theme of the CS curriculum, "Our Country since Reform and Opening-up", the two-day tour was designed to enrich students' understanding of the Greater Bay Area, current economic co-operation between Guangdong Province and Hong Kong and its development, cultural conservation, changes in people's life, enhancement of the overall national strength, and development and inheritance of Chinese culture in modern society.
On the first day, the students visited Guangzhou Zhixin High School and joined class activities with their Mainland counterparts, including learning of Chinese calligraphy and aerospace knowledge, which deepened their understanding of Chinese culture and the rapid technological advancement of our country. They mingled with the local students, sharing their bits and pieces of life during lunchtime and touring the campus together. They promised to keep in contact and continue their friendship. After saying goodbye to their local counterparts, the students continued their visit programme, including touring Chen Clan Temple to understand the conservation and inheritance of Chinese culture in society and visiting the Cantonese Opera Art Museum and Bruce Lee's former residence in Yongqin Fang to enrich their understanding of cultural conservation and integration of traditional and new cultures. They also took a glimpse of the local life at specialty shops.
On the next day, the students visited a youth entrepreneurship base and a national innovation and technology enterprise to understand the development of the Guangdong-Hong Kong-Macao Greater Bay Area. Several Hong Kong youngsters with start-ups in the Greater Bay Area and representatives of the enterprise shared their personal experiences with the students. They also introduced the opportunities for career development in the Greater Bay Area. The students were keen to raise questions and the exchange was fruitful. After the tour, teachers guided the students solicitously to consolidate and reflect on their learning through discussion and drawing conclusions. Students were enthusiastic in expressing their views in the concluding session. Their comments included:
"I am very glad to show my creativity and think together with Mainland students about how we can fulfil our dreams by seizing opportunities in the Greater Bay Area";
"The visiting spots are like living fossils, telling the all-embracing, inexhaustible history and culture of our country";
"I better understand that safeguarding cultural security is an important foundation for unifying and maintaining stability of our country"; and
"I admire our country for its accelerating advancement".
The two-day tour seemed short but students' gains in learning and friendship with the Mainland students last long. All these strengthen our belief that there is no better way than making personal observations and gaining experiences through Mainland study tours for students to truly understand the impressive cultural traditions that the Chinese nation has nurtured throughout its long history of over 5 000 years and to enhance their sense of belonging to the country and national identity.
Continuous enhancement with diversified support
After the first tour, other CS Mainland study tours on various themes set off one after another. The EDB will continue to assist schools in organising quality Mainland study tours for secondary school students in alignment with the rationale and aims of the CS curriculum. We will also refine the itineraries and visiting spots in a timely manner, including introduction of routes beyond Guangdong Province, thereby broadening students' horizons and inspiring them to envisage the opportunities brought about by the country's development to Hong Kong and themselves, as well as their contribution.
Many schools have been making good use of different resources, such as the recurrent Life-wide Learning Grant, Expanded Operating Expenses Block Grant and Quality Education Fund, to subsidise students to join Mainland exchange activities for enrichment of their learning experiences, and understanding of the history, culture and latest development and achievements of our country from multiple perspectives.
Cultivating outstanding new generation with concerted efforts
The EDB will continue to pursue the goal of cultivating values and nurturing people. With concerted efforts of the school sector, parents and different organisations, we endeavor to lead students to develop an accurate and comprehensive understanding of our country, and guide them to plan for the future and get prepared early so that they can grasp opportunities with their own strengths and actively participate in the development blueprint of our country. We count on all sectors of society to work together to nurture students to be an outstanding new generation.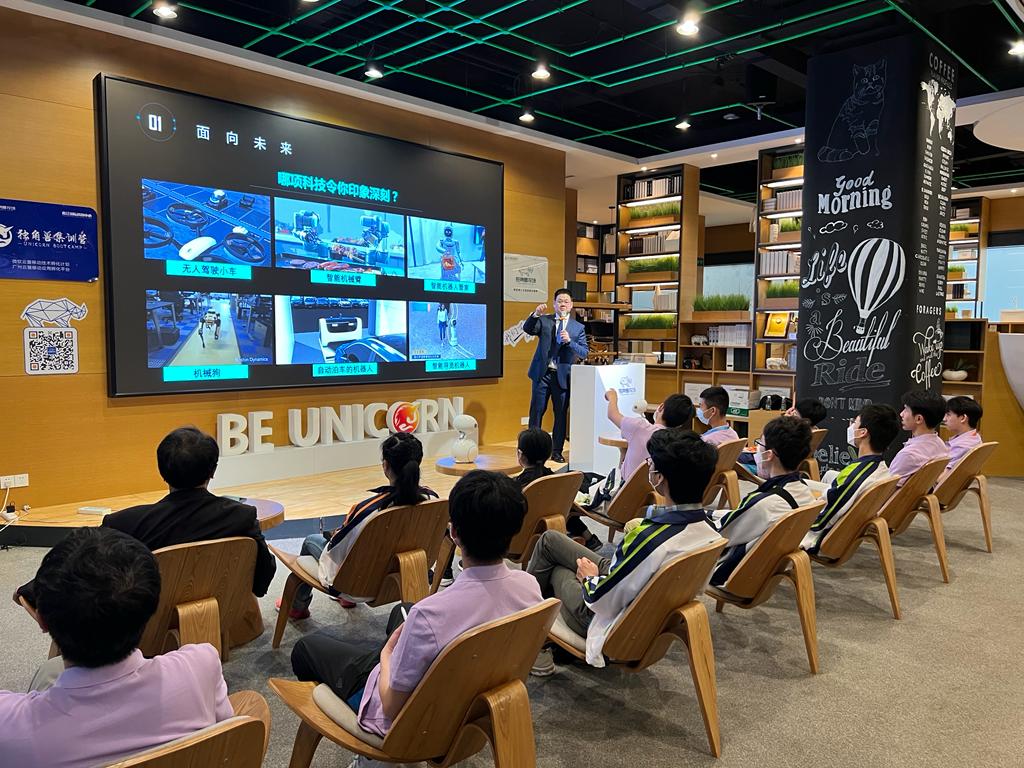 A representative of an enterprise in the Greater Bay Area sharing his success story.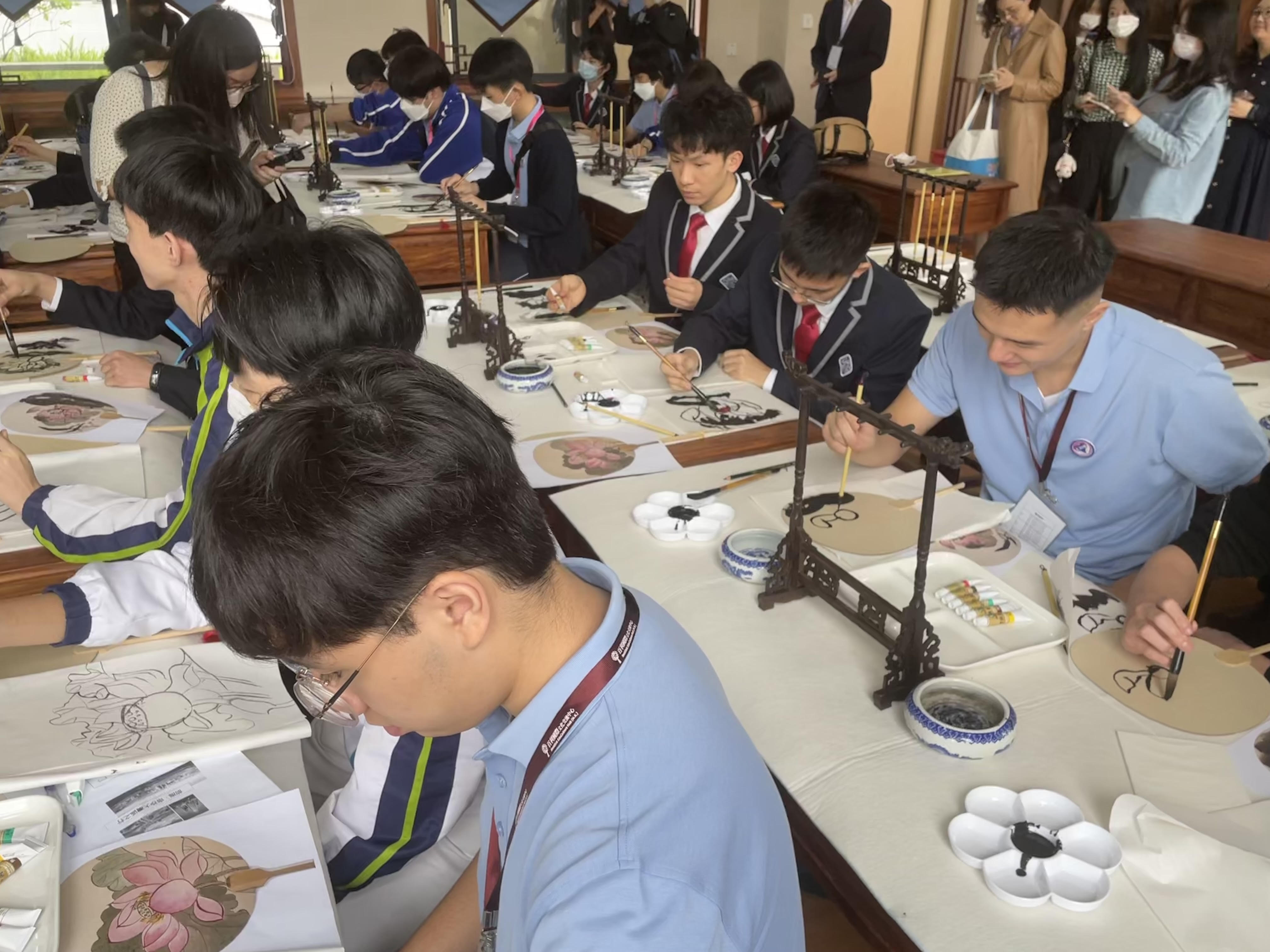 Students of Guangzhou Zhixin High School and Hong Kong students practising Chinese calligraphy together.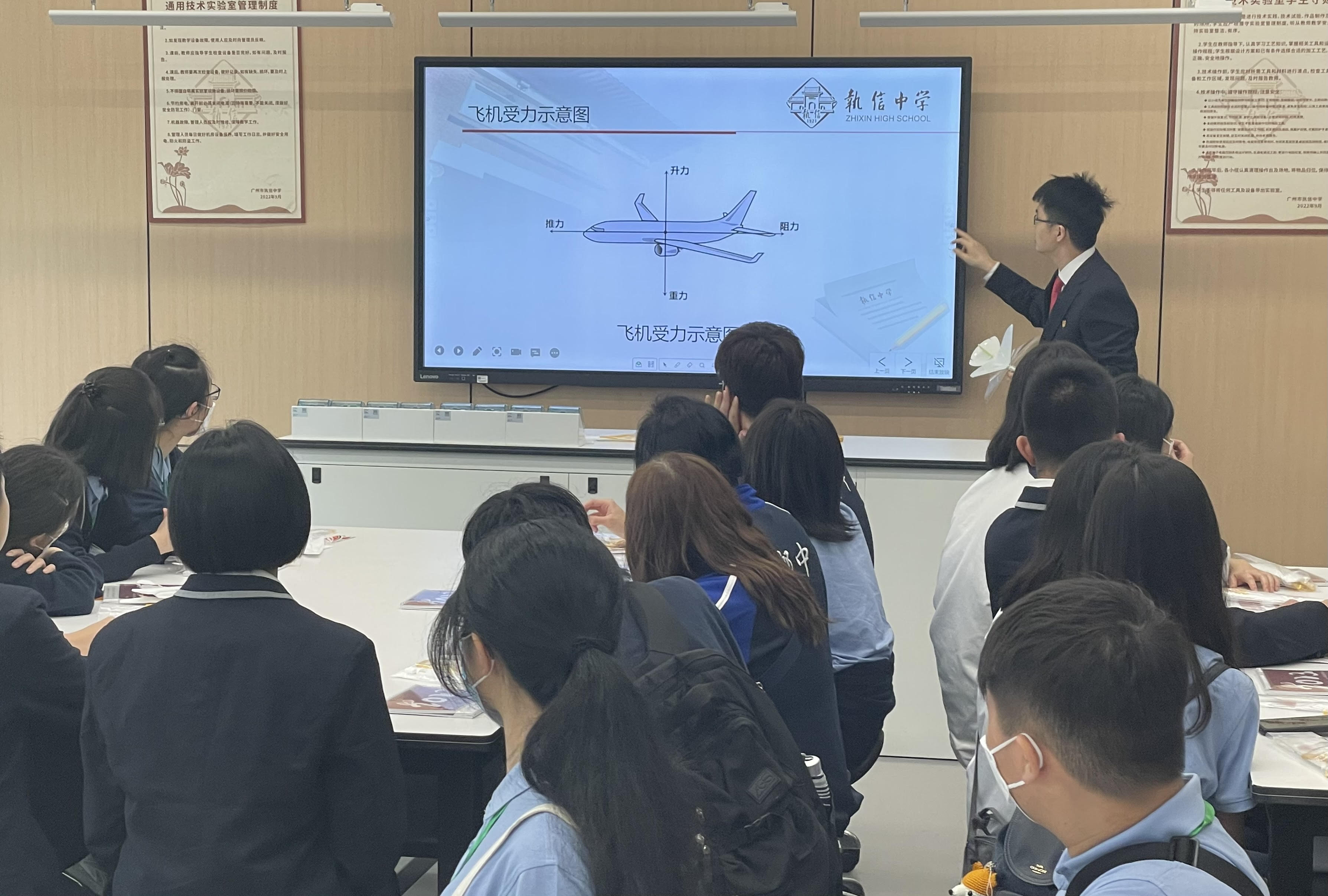 Students of Guangzhou Zhixin High School and Hong Kong students learning about an aeroplane model together.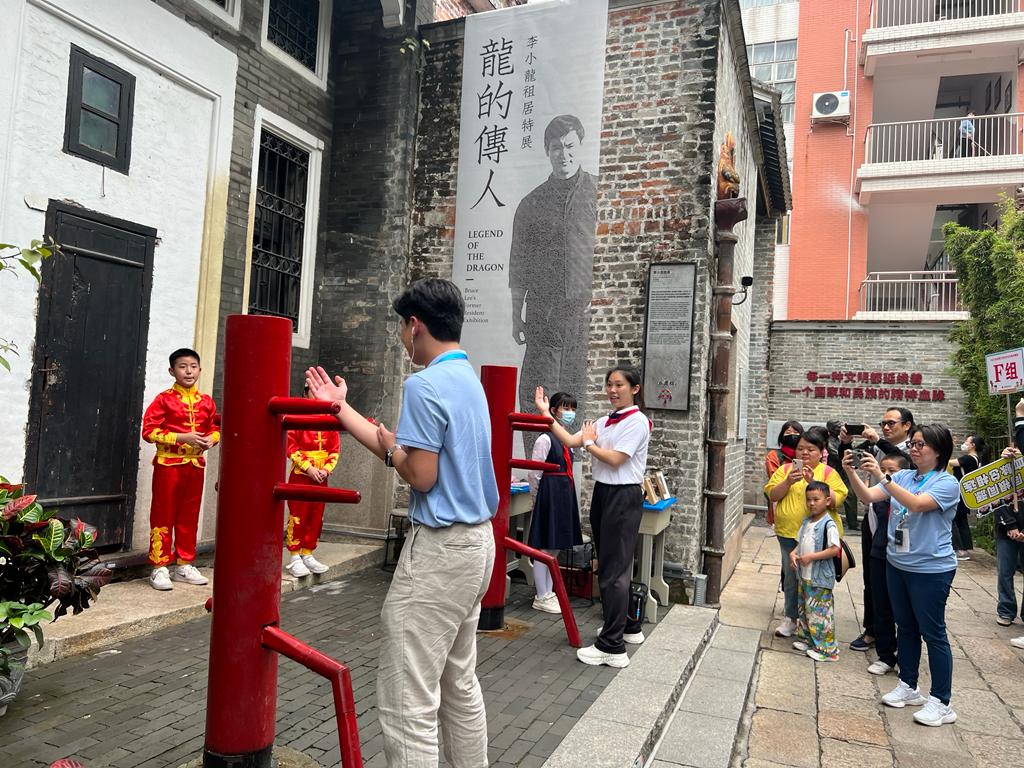 Students learning Chinese martial arts before Bruce Lee's former residence in Yongqin Fang.

20 April 2023