"Students as Learning Experience Designers ("Student-LED")" Network
(1) Background
The Hong Kong Association of the Heads of Secondary Schools (HKAHSS), the Center for Engineering Education Innovation (E2I) of the Hong Kong University of Science and Technology (HKUST) and the Curriculum Development Institute (CDI) of the Education Bureau (EDB) jointly organised the "Students as Learning Experience Designers ("Student-LED")" project from the 2010/11 to 2012/13 school years. Over 500 students from 55 schools participated in the project and designed their own learning experiences programmes. They also established a learning community to disseminate their experiences and good practices with students and teachers of other schools. Details can be found on this website: (
http://www.edb.gov.hk/cd/ole/student_LED/
).
As an effort to sustain the professional exchange on this area, the EDB set up a "Student-LED" Network (the Network) in 2013/14 school year, aiming to continue to promote self-directed learning among students as well as to encourage schools to develop quality OLE/SLP through whole-school curriculum planning and effective strategies of pedagogy and assessment.
(2) "STARS" Programme – Let Students Shine like STARS
In keeping up with the ongoing curriculum renewal, the EDB has developed a
"STARS" Programme
since September 2015 to support teachers with practical strategies in adopting the "Student-LED" approach to plan and organise OLE/SLP activities in schools. The aim is to develop students' self-directed learning capabilities, to further empower students to excel in their learning, and to unleash their potentials so that they could thrive and shine like STARS.
(3) Purpose
To share among schools adopting the "Student-LED" approach good practices of implementing quality OLE/SLP and providing learning experiences for unleashing students' potentials.
To develop a professional learning community in which participants share and exchange their views and experiences through in-depth interaction.
To share and disseminate good practices of the "Student-LED" approach with other schools.
(4) Target Participants
Secondary school teachers (e.g. Vice-principals, OLE/SLP Coordinators, ECA masters/mistresses, Career masters/mistresses, etc.) who show keen interest in adopting the "Student-LED" approach and are willing to disseminate good practices to other schools.
(5) Programme Details
"Student-LED" Learning Community: This community gathers together schools of different backgrounds for sharing a variety of good practices. It serves as a platform for teachers' professional exchange on themes related to implementing

"

Student-LED

"

activities, such as whole-school curriculum planning in cultivating a

"

Student-LED

"

school culture, strategies, skills and experiences of implementing

"

Student-LED

"

activities through cross-disciplinary collaboration, and skills in planning and organising

"

Student-LED

"

activities to cater for learner diversity.
Training Workshop for Students: The HKUST is invited to provide training workshops for students to help them understand and acquire the necessary skills in organising

"

Student-LED

"

activities, develop leadership qualities, and nurture reflective habits of mind. Participating students will share their stories in the peer learning community. Teachers from network schools could join as facilitators or observers in these workshops.
Annual Learning Symposium: A Learning symposium will be conducted annually in July for students to share their stories in organising

"

Student-LED

"

activities. It also fosters professional exchange among schools within and outside the Network on adopting the

"

Student-LED

"

approach.
Reflection Strategies Workshop for Teachers: Workshops will be conducted by the HKUST and the EDB to enhance teachers' knowledge and skills in facilitating quality reflection as well as nurturing self-directed capabilities among students for their whole-person development. A 3-Tiers Framework of the

"

Student-LED

"

approach will be introduced to facilitate teachers' effective planning and implementing their own programmes in schools. EDB will provide support to individual schools upon request on relevant strategies to implement

"

Student-LED

"

programmes.
Series of Professional Sharing Activities: We encourage schools to organize different modes of professional sharing among themselves and we will provide support as needed. For example, if there are three or more schools who would like to organize joint school staff development programmes or school visits, our officers and HKUST's professionals could serve as speakers or facilitators. Organising schools may also consider opening up these programmes or visits for other teachers or students from the Network to participate.
(6) Application Form
(7) Key Tasks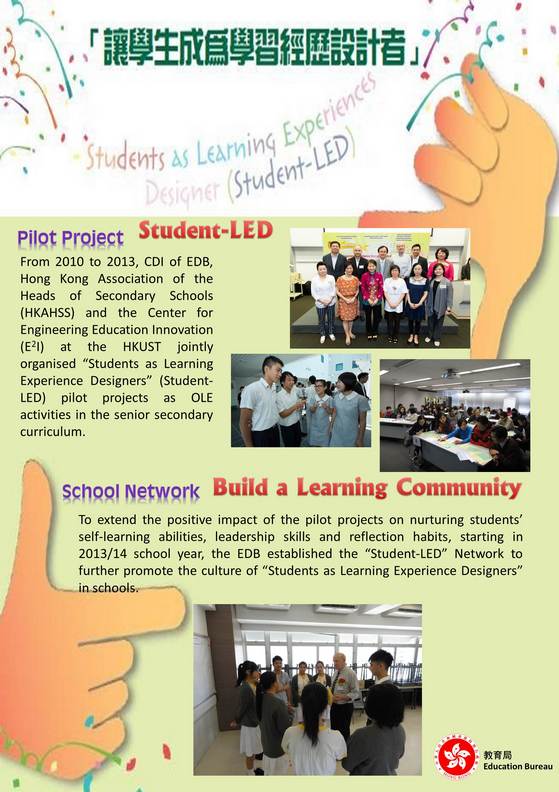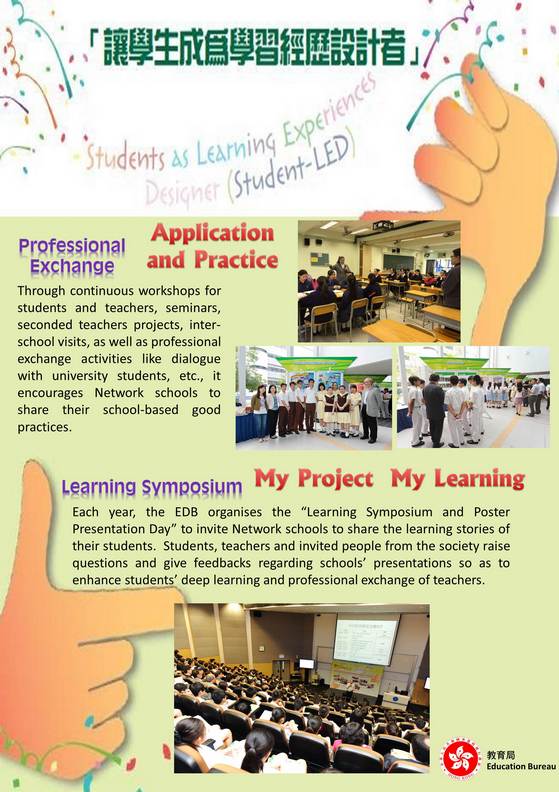 (8) "Student-LED" Network Programmes

Programme Name
Date
Venue

Learning Symposium and Poster Presentation Day 2019

This Learning Symposium was a learning platform to exchange learning experiences among schools and enhance their deep learning by reflecting on their learning experiences. More than hundred students and teachers from eleven schools have participated in this Learning Symposium at HKUST, in which critical friends form universities, business field and secondary schools would raise questions and give feedbacks on the students' presentation.




6 July 2019

Dialogue with University Students

University students from HKUST were invited to visit the Network schools and shared their experiences in planning and organizing activities as well as their university life and life planning experiences with the senior secondary student leaders. University students, staff from HKUST and EDB officers would provide feedbacks on the "Student-LED" projects presented and organised by the secondary students.




Mar - Apr 2019

Delia Memorial School (Glee Path)
Hong Kong Teachers' Association Lee Heng Kwei Secondary School
Law Ting Pong Secondary School
Pope Paul VI College
Qualied College
Salem-Immanuel Lutheran College


Student Workshop

About thirty secondary students have attended this "Student-LED" Student Workshop conducted by the HKUST, which aimed at facilitating them to design their own OLE activities in schools and reflect and review on what they have learnt.




26 Jan 2019

EDB Kowloon Tong Education Services Centre
Programme Name
Date
Venue

Learning Symposium and Poster Presentation Day 2018

This Learning Symposium was a learning platform to exchange learning experiences among schools and enhance their deep learning by reflecting on their learning experiences. More than hundred students and teachers from eleven schools have participated in this Learning Symposium at HKUST, in which critical friends form universities, business field and secondary schools would raise questions and give feedbacks on the students' presentation.




7 July 2018

Dialogue with University Students

University students from HKUST were invited to visit the Network schools and shared their experiences in planning and organizing activities as well as their university life and life planning experiences with the senior secondary student leaders. University students, staff from HKUST and EDB officers would provide feedbacks on the "Student-LED" projects presented and organised by the secondary students.




Jan - Early of May 2018

Creative Secondary School
Hong Kong Teachers' Association Lee Heng Kwei Secondary School
St. Margaret's Co-educational English Secnodary & Primary School
Buddhist Wong Wan Tin College
Salem-Immanuel Lutheran College
Lui Cheung Kwong Lutheran College
Po Leung Kuk C. W. Chu College
St. Clare's Girls' School


Student Workshop

Over thirty secondary students have attended this "Student-LED" Student Workshop conducted by the HKUST, which aimed at facilitating them to design their own OLE activities in schools and reflect and review on what they have learnt.




2 Dec 2017

EDB Kowloon Tong Education Services Centre


Teacher Workshop

Principals and teachers from Network schools have participated in the "Student-LED" Teacher Workshop conducted by the Hong Kong University of Science and Technology (HKUST), which aimed at strengthening their professional knowledge and skills of how to implement school-based

"

Student-LED

"

programmes in schools. EDB Officers have also introduced the network programmes to be held this year, as well as the updates of our webpage.




13 Nov 2017

EDB Kowloon Tong Education Services Centre
Programme Name
Date
Venue

Learning Symposium and Poster Presentation Day 2017

This Learning Symposium was a learning platform to exchange learning experiences among schools and enhance their deep learning by reflecting on their learning experiences. More than hundred students and teachers from eleven schools have participated in this Learning Symposium at HKUST, in which critical friends form universities, business field and secondary schools would raise questions and give feedbacks on the students' presentation.




8 Jul 2017

Dialogue with University Students

University students from HKUST were invited to visit the Network schools and shared their experiences in planning and organizing activities as well as their university life and life planning experiences with the senior secondary student leaders. University students, professionals from HKUST and EDB officers would provide feedbacks on the "Student-LED" projects presented and organised by the secondary students.




Mar - Apr 2017

Caritas Ma On Shan Secondary School
Heung To Middle School (Tin Shui Wai)
Hong Kong Teachers' Association Lee Heng Kwei Secondary School
Salem-Immanuel Lutheran College
St Clare's Girls' School


Student Workshop

Nearly thirty senior secondary students have attended this "Student-LED" Student Workshop conducted by the HKUST, which aimed at facilitating them to design their own OLE activities in schools and reflect and review on what they have learnt.




26 Nov 2016

EDB Kowloon Tong Education Services Centre


Teacher Workshop

Principals and teachers from Network schools have participated in the "Student-LED" Teacher Workshop conducted by the Hong Kong University of Science and Technology (HKUST), which aimed at strengthening their professional knowledge and skills of how to implement school-based "Student-LED" programmes in schools.




24 Nov 2016

EDB Kowloon Tong Education Services Centre
(9) "Student-LED" Network Schools List
Buddhist Mau Fung Memorial College
Buddhist Wong Wan Tin College
Caritas Ma On Shan Secondary School
CCC Mong Man Wai College
Creative Secondary School
Daughters of Mary Help of Christians Siu Ming Catholic Secondary School
Delia Memorial School (Glee Path)
Heung To Middle School (Tin Shui Wai)
HK Teachers' Association Lee Heng Kwei Secondary School
Ho Dao College (Sponsored By Sik Sik Yuen)
Homantin Government Secondary School
Hong Kong True Light College
Kau Yan College
Kowloon Technical School
Kowloon Tong School (Secondary Section)
Law Ting Pong Secondary School
Lingnan Dr Chung Wing Kwong Memorial Secondary School
Lok Sin Tong Leung Kau Kui College • Lok Sin Tong Wong Chung Ming Secondary School
Lui Cheung Kwong Lutheran College
Methodist College
Munsang College
Po Leung Kuk C. W. Chu College
Pope Paul VI College
QualiED College
Salem-Immanuel Lutheran College
Salesian English School
SKH St. Mary's Church Mok Hing Yiu College
St. Clare's Girls' School
St. Francis' Canossian College
St. Margaret's Co-educational English Secondary & Primary School
St. Paul's College
St. Paul's School (Lam Tin)
True Light Girls' College
Tuen Mun Government Secondary School
TWGHs Lui Yun Choy Memorial College
(10) Information and Downloads