In the 2005 Policy Address, the Government announced launching the Head Start Programme on Child Development, currently known as the Comprehensive Child Development Service (CCDS), which aims at early identification and provision of timely support to children and families with special needs.
The distinctive feature of this programme is its interdisciplinary and cross-sectorial collaboration among the Education Bureau (EDB), the Department of Health (DH), the Hospital Authority (HA), and the Social Welfare Department (SWD).Through fostering communication and collaboration among different providers of the existing educational, medical, and social services, this programme demonstrates a new service model.
Under the CCDS, a referral and reply system has been developed to enhance the close collaboration with kindergartens/child-care-centres (KGs), Maternal and Child Health Centre (MCHCs) and Integrated Family Service Centres (IFSCs)/Integrated Services Centres (ISCs). If KG teachers detect any persistent physical, developmental, behavioural or significant family issues with children, they can refer them directly to the MCHC or IFSC/ISC in the respective district for assessment.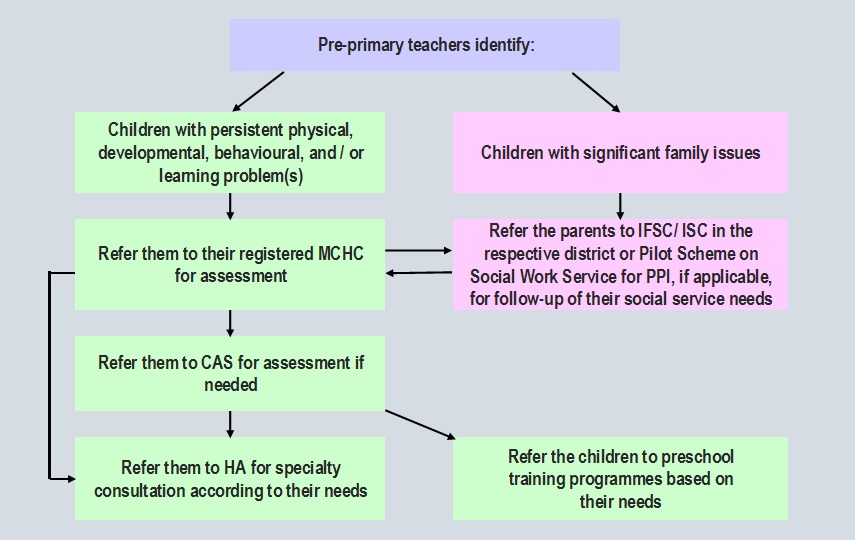 Upon receiving a referral, the nursing staff of MCHC will call the parents to arrange for an interview within one month. After the interview has been arranged, MCHC will make an interim reply to the KG.


KG teachers always come into close contact with children apart from their parents, and thus are more likely to notice their varied needs. Upon identifying a child with early signs of special needs, the teacher should communicate with the parents for a timely referral, and professional assessment and assistance at the MCHC.
Supports for Pre-primary Institutions
To enable teachers to identify children with special education needs at an early stage and to have better understanding on the service mode, the Pre-primary Children Development and Bahaviour Management - Teacher Resource Kit has been prepared by DH in collaboration with the EDB and SWD.
This referral and feedback system has been implemented in all districts of Hong Kong since December 2008. KGs can make use of the following series of referral forms to refer children with special education needs to MCHCs for timely assistance.
Referral Forms for MCHC Service
You may obtain Adobe Reader by clicking

to view

documents.
Reference: Pre-primary Children Development and Behaviour Management - Teacher Resource Kit
To equip KG teachers with a better understanding of the referral system, the Pre-primary Children Development and Behaviour Management - Teacher Resource Kit has been prepared by the DH in collaboration with the EDB and SWD. Through introducing the aforementioned service, the developmental characteristics and common developmental and learning problems of KG children, this resource kit enables teachers to identify needy children, communicate with parents effectively and refer children for assessment promptly. Strategies and techniques for interpreting and managing individual children's learning, behavioural, emotional and social skills problems are also provided in this kit. Teachers will then be able to achieve more effective teaching and classroom management.