Nearsightedness (Myopia)
Nearsightedness (Myopia) is a condition of the eye where the light that comes in does not directly focus on the retina but in front of it. This causes the image that one sees when looking at a distant object to be out of focus, but in focus when looking at a close object.
Nearsightedness (Myopia) Video
Nearsightedness is the commonest refractive errors, and affecting around 40% of primary school children in Hong Kong.Fan et al, IOVS 2004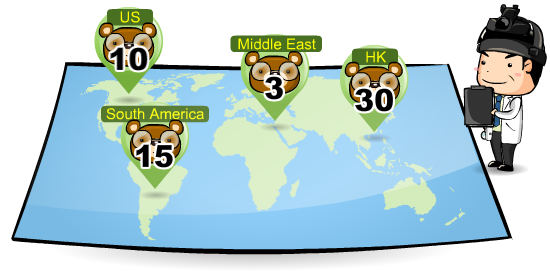 Hong Kong has one of the highest prevalence of myopia in the world. Our prevalence was three times that of the United States, more than 10 times that reported from the Middle East, and near twice that in South America. Fan et al, IOVS 2004
| | | |
| --- | --- | --- |
| Heredity | Reading in Dim Light | Excessive Nearsighted Work |
| | | |
| | |
| --- | --- |
| While the exact cause of nearsightedness remains unknown, it is believed that an interaction of heredity and environment may play a role. It tends to run in families. Environmental factors such as reading in dim light or doing excessive amount of nearsighted work may contribute to nearsightedness. | |
A common sign of nearsightedness is difficulty with the clarity of distant objects like a movie, TV screen or the chalkboard in school. Nearsightedness can be corrected by spectacles with concave lens.