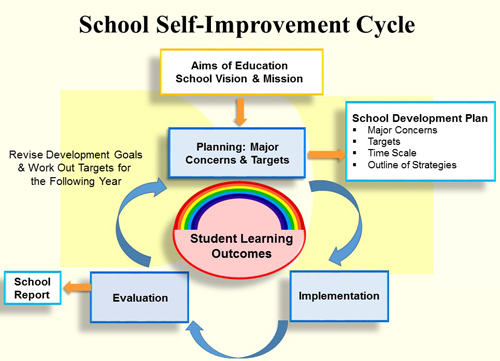 School Self-improvement cycle

Planning
Based on the school aims and needs of students, the school works out its School Development Plan (SDP), usually spanning across three years, including major concerns, targets, time frame and outline of strategies, etc.

Implementation
Every school year, the school works out its Annual School Plan (ASP) according to the targets of its SDP, sets implementation strategies and success criteria, as well as monitors the progress of work.

Evaluation
Towards the end of the year, the school evaluates the performance and effectiveness of its work in different areas and produces a School Report (SR) for stakeholders' reference.

Making use of the evaluation to inform planning
Based on the evaluation results and other factors, the school revises the implementation strategies of the ASP of the following year, or sets targets of the major concerns for the new school development cycle, using evaluation to inform planning.

Core of School Self-improvement

To enhance students' academic and non-academic performance through continuous school self-evaluation and improvement.
The capacity of schools to plan their work strategically and develop a culture of reflective practice is fundamental to their continuous development and improvement. The School Development Plan (SDP), Annual School Plan (ASP) and School Report (SR) are primarily the school's documents in support of its development planning cycle. They should be based on the school's self-evaluation of its current state of performance, strengths and areas for improvement, development priorities and targets for improvement. The SDP, ASP and SR should be submitted to the School Management Committee or the Incorporated Management Committee for endorsement and then uploaded onto the school's website.