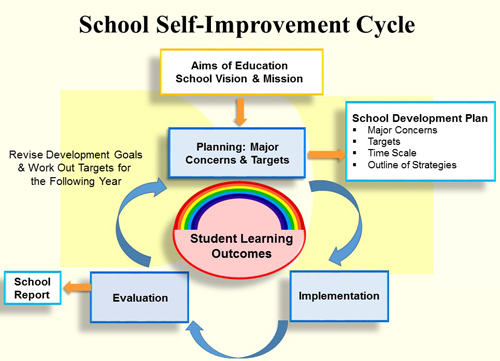 School Self-improvement cycle

School Vision and Mission
Based on the school aims and needs of students, the school works out its development goals, annual targets together with relevant evaluation methods and work performance indicators.

Implementation and Monitoring
The school then implements the development plan, monitors progress of work and conducts evaluation on effectiveness during the school year.

Evaluation on effectiveness
Towards the end of the year, the school concludes all self-evaluation findings and produces an annual report for parents' information.

Development goals and annual targets
Based on the evaluation results and other factors, the school revises its development goals and works out the annual targets for the following year.

Core of School Self-improvement

To enhance students' academic and non-academic performance through continuous school self-evaluation and improvement.
The capacity of schools to plan their work strategically and develop a culture of reflective practice is fundamental to their continuous development and improvement. The School Development Plan (SDP), Annual School Plan (ASP) and School Report (SR) are primarily the school's documents in support of its development planning cycle. They should be based on the school's self-evaluation of its current state of performance, strengths and areas for improvement, development priorities and targets for improvement. The SDP, ASP and SR should be submitted to the School Management Committee or the Incorporated Management Committee for endorsement and then uploaded onto the school's website.